here do creativity, spontaneous intuition, unconscious guidance, or sudden leaps of imagination come from? All of creation is interconnected and guided by an invisible universal field of information and energies — also known as God, Divine design, Heaven, or the like. Our evolving scientific quantum nature is just a single example of the creativity manifested in all walks of life. When humanity integrates the spiritual with the scientific, Harmony and Peace are within reach. It's time to step up and feel Divine love, the fabric of all existence, and to live for the good of all.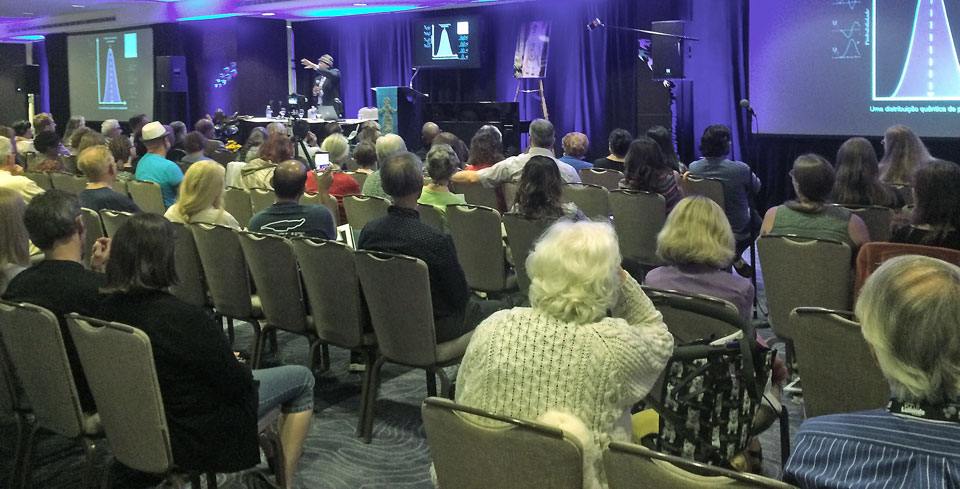 Among the many and sundry topics to be presented in this year's conference are quantum physics, integrative health, afterlife studies, energies research, psychic and spiritual sciences, near-death research, life-after-death, psychotherapy, sacred sites, disability rights, holistic counselling, paranormal studies, music therapy, biological energy systems, pain management, energy clearing, integral therapy, bio-magnetic healing, brainwave entrainment, self-regulation, spirit art, Christian mystical spirituality, dream tapping, fractals and cosmology, animal communication, politics and extraterrestrial life, contemporary spirituality, room design and happiness, chakras and auras, consciousness studies, and shamanic interventions.
▸ Carmen Aguirre, PhD — spiritual counsellor focussed on healing through Energy and Love
▸ Robert Alcorn, MD — holistic psychiatrist; shaman; author of "Healing Stories"
▸ P.M.H. Atwater, PhD — Near-Death-Experience author and expert
▸ Sonal Bhatt — Ayurvedic physician & Panchkarma specialist
▸ Hannah Brockow — Montréal-based Harp Therapy practitioner
▸ Gaétan Brouillard, MD — auteur du best-seller « La santé repensé »
▸ Ana Claret — founder of Universo Holístico
▸ Douglas J. Cottrell, PhD — clairvoyant; Quantum Meditation™ pioneer; author of "Conversations with the Akashic Field"
▸ Bishop Kevin Daniels, DMin, EdD — pastor in Baltimore, MD; Social Work professor at Morgan State U.
▸ Emilie Desmond — animal communicator; Interspecies Coaching and Animal Massage Therapy certified practitioner
▸ Imran Fazil, PhD — pain management, acupuncture and Mind Sciences consultant
▸ Lori-Anne Gardi — medical imaging researcher focussed on understanding nature through fractals
▸ Jean-Marc Girard — Integral Counselling trainer and therapist
▸ Shadia Habib — Traditional Chinese Internal Arts & Energy Medicine instructor and practitioner
▸ Shaykh Abdul Haqq — Naqshbandi-Sufi leader and scholar
▸ Rev. Mary Hooten-Bivens, PhD — recently ordained Spiritualist associate minister and certified Pastoral Care specialist
▸ Ibrahim Karim, DrSc — BioGeometry researcher
▸ Ginette Kemp, PhD, & Linda Kemp, PhD — certified energy workers, Crystal Healing practitioners and Sacred Sound Healing teachers
▸ Frances Kucharsky, MA — holistic, eclectic and pragmatic psychotherapist
▸ Derek LaCroix, QC — Lawyers Assistance Program, exec. dir.; respected leader in legal, health care and recovery communities
▸ Gaelynn Lea — singer, violinist, public speaker and disability advocate from Duluth, MN
▸ Rev. Mikel Lizarralde, PhD — internationally recognized Spanish medium and founder of IZARPE, an SSF affiliate
▸ Jeffrey Long, MD — oncologist; author of "Evidence of the Afterlife"
▸ Constant A. Madon, PhD — energies researcher
▸ Barbara Mainguy, MFA — arts therapist; narrative and energy practitioner
▸ Jorge Malpica Esparza — holistic bio-magnetic healing and magnetopuncture specialist
▸ Olga Mandodari, PhD — Vaastu designer-practitioner and a disciple of Padma Bhushan Dr. Ganapati V. Sthapati
▸ Emily Markides, PhD — sociologist; Peace & Reconciliation professor at the University of Maine
▸ Kyriacos Markides, PhD — sociology professor; author of seven books on Christian mysticism
▸ Manuel Matas, MD — psychiatrist whose focus is the confluence of psychiatry with metaphysics, spirituality and philosophy
▸ Lewis Mehl-Madrona, MD — author of "Coyote Medicine," "Coyote Healing," and others
▸ The Mystic Voices — contemporary, traditional and sacred songs blended together for healing
▸ Nauman Naeem, MD — pulmonary and critical care specialist; author of "Healing from the Inside Out"
▸ Rev. Kathy Nyitrai, ND — naturopath, medium, spirit artist, and fashion designer
▸ Rajiv Parti, MD — author, NDE expert and Consciousness Based Healing consultant
▸ Hasu Patel — world-class Indian classical sitarist, composer and educator
▸ Mauro & Paola Poloni — specialists in transpersonal psychology, and founders of Big Jump World
▸ Rev. Karin Reimers, PhD — therapeutic counsellor; self-regulation coach; astrologer; physiotherapist
▸ Susan A. Remek, PhD — shamanic healing instructor and Four Winds Society graduate
▸ Daniel Richard — Mantra practitioner and teacher in Montréal
▸ Marilyn Rossner, PhD — SSF founder; special-care-counselling professor (ret.)
▸ John G. Ryan, MD — Radiology professor; author of "The Missing Pill"
▸ Aqeela Safder, PhD — Pakistani psychologist, spiritual teacher and Human Rights advocate
▸ Vinesh Saxena — yoga instructor and philanthropist
▸ Barbara Stone, PhD — psychotherapist; author of "Invisible Roots"
▸ Mary Swaine, PhD — intuitive radionician and multi-therapist
▸ Elaine Valdov, PhD — psychotherapist & former UN DPI/NGO Exec. Comm. chair
▸ Raul Valverde, PhD — director, BTM program, Concordia U.; computing, neuroscience, quantum physics and psychology researcher
▸ Rev. John White — mystic, medium and teacher
▸ Rev. P.T. Wilson, DMin, PhD — United Methodist pastor; certified Spiritual Healer
▸ Gian Carlo Zazzeri — psychic, medium, international holisitc teacher and director